Things to Do Before the D-Days
Saturday, October 24, 2009
well it's been soooo long not to write in my blog.
okay, it's because all of the business of me and my commitment to my thesis.

and by now, finally my thesis is finally done! all of my nine months hard work! and finally my name and my thesis' title got into the final exam schedule. and mine is on October 30th, 2009. so pray with me, will you?

so there's the quick update from me.

and from now on i have a bunch of things to do. let's list it one by one so i will not forget and in case i forget, anyone can remind me.

1. preparing presentation slide
yes, a presentation slide is a necessary thing to walk in into the final exam about my thesis. every student should present their thesis in maximum 15 minutes. and after that they will defend their thesis in front of two lecturer. if they succeed, then they will walk out from the room with their new title on their name (uuh, AMEN!).

2. study!

of course. it's a common thing if we study before exam. but an exam about my thesis?? come on, i've been working with my thesis for about nine months and i already have all the contains in my head. actually, i'm too sick to read again my thesis ahahaha. but one thing is i have to learn about personality theory because a Personality Theory Exam is one of the condition before we (psychology student) can take our new title (uuh, AMEN!).

3. exchange money
oh yes i have to exchange my money into three different currency; US Dollar, Phillipina Peso, and Ringgit Malaysia. yes the money is ready (my nine months savings). but still don't have time yet (or still
lazy ;p) to go into the money changer and exchange my money. and why i have to exchange my money?? read further.

4. buy a travel insurance
oh i have to do this. at first i think i will not need this kind of thing since i never believe such thing like insurance. but the brothers think it will be wiser if i have some insurance. okay for a guy who never interested in any insurances, i was confuse. but internet do really helping in this kind of situation. so i already decided of which insurance that i have to buy and how to do it. the problem is i have to buy it in US Dollar and the office is quite far from my home so once again, i'm quite lazy ;p

5. packing
yes and not yet done. okay i'm the lazy boy, but i will do it. finally i already bought a carrier bag. yes i've claimed my Manila trip as a backpacking-volunteering trip.

#intermezzo# - about Manila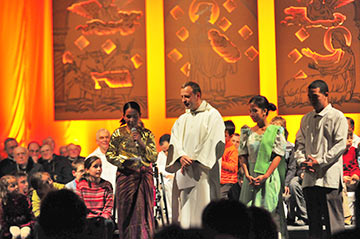 i already volunteering my self to preparing the Pilgrimage of Trust on Earth (click for further information) in Manila that will be held on Feb 3rd - 7th, 2010. it's a meeting that arranged by the brothers of Taize. and i already decided to become a volunteer since last year, when i'm still in Taize. so all the volunteers expected to come in Manila from October. but me, due to my thesis, will come on November 10th, 2009. and i will stay in Manila until Feb 22th, 2010. yes, more than three months abroad, again!

okay back to number five, as my past experiences, i think it's better not to bring a luggage,
especially into a country that already get a disaster such as thunder and flood. so i think it's wiser to bring a carrier backpack to anticipate anything happens. and my new 60l carrier is still empty and i don't know yet if all my things can fit on that carrier. but we'll find out. i decided to start packing at least after i get my degree (for the third time, AMEN!), so it's on the beginning on November.

so i think it's the first time i announce officially of my three months and a half trip to Manila. well i have to write about this because it's important for my blog record. and also to automatically answering such questions as "where are you going??" "what will you do in Manila??", etc.

well, i'm planning to keep on writing, especially about my personal experiences while my staying in Manila on my blog. on that case i already prepared my self to bring my laptop there. hope there's nothing bad happens on my possessions.

so wish me luck and pray for me for my D-Days!; October 30th of my final exam and November 9th of my departure.